Michigan has nation's third-highest real-time unemployment rate at 28.7%
More than 1 in 5 people from Michigan's workforce currently has a new or continuing jobless claim.
More than 1.1 million Michiganders have filed for unemployment benefits in the past five weeks, giving Michigan one of the highest real-time unemployment rates in the country.
The real-time unemployment estimate puts Michigan's jobless rate at 28.7% as of April 18, compared with a national average of 21.4%, behind only Pennsylvania and Kentucky. Michigan's drop in economic activity has been unusually rapid even compared to other states that are weathering the pandemic.
Key policy changes will be needed to rejuvenate Michigan's economy once it is reopened. The state is falling behind in economic activity due to the pandemic and government-imposed shutdown of businesses. Getting the economy back to normal will require rebooting the successful strategy leaders used to bounce back from the Great Recession.
Michigan's initial claims have decreased two weeks in a row, from a high of 388,000 the week ending April 4 to 134,000 the week ending April 18.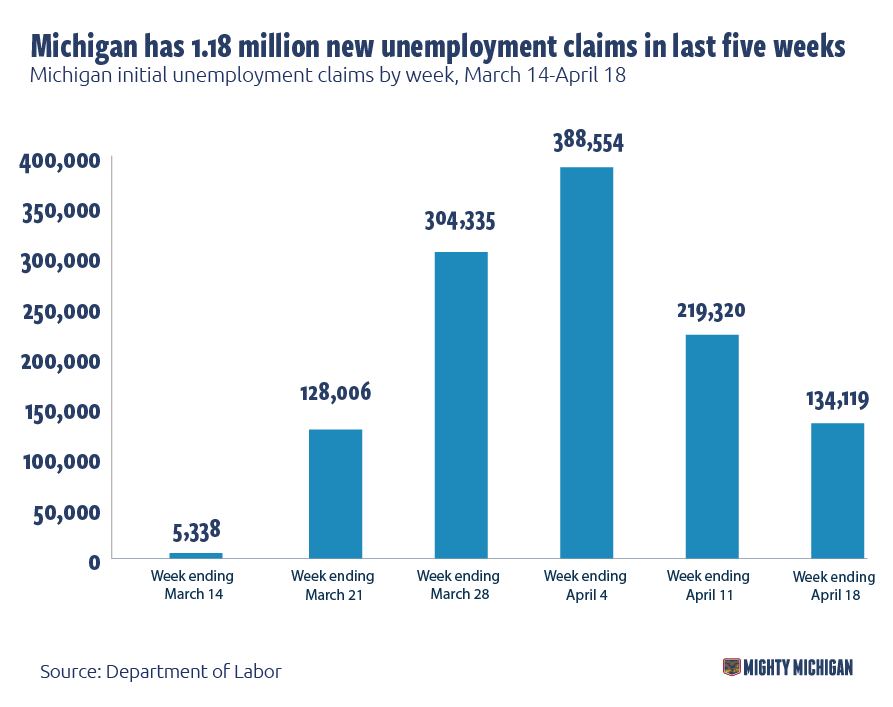 However, the total amount of unemployment insurance claims continues climbing rapidly. Michigan leads the nation for new and continuing unemployment insurance claims, according to an analysis by the nonpartisan Tax Foundation.
More than 1 in 5 people from Michigan's workforce currently has a new or continuing jobless claim, a count that typically under-represents actual unemployment.
Michigan's real-time unemployment estimate factors in the unemployed from prior to the pandemic, adds to that recent workforce dropouts, and also includes the last five weeks of initial claims. Michigan has an estimated 1.4 million total unemployed as of April 18, giving it a 28.7% jobless rate. Michigan's region has relatively high unemployment, while southern states, plains states and mountain west states have seen a more controlled rise in joblessness.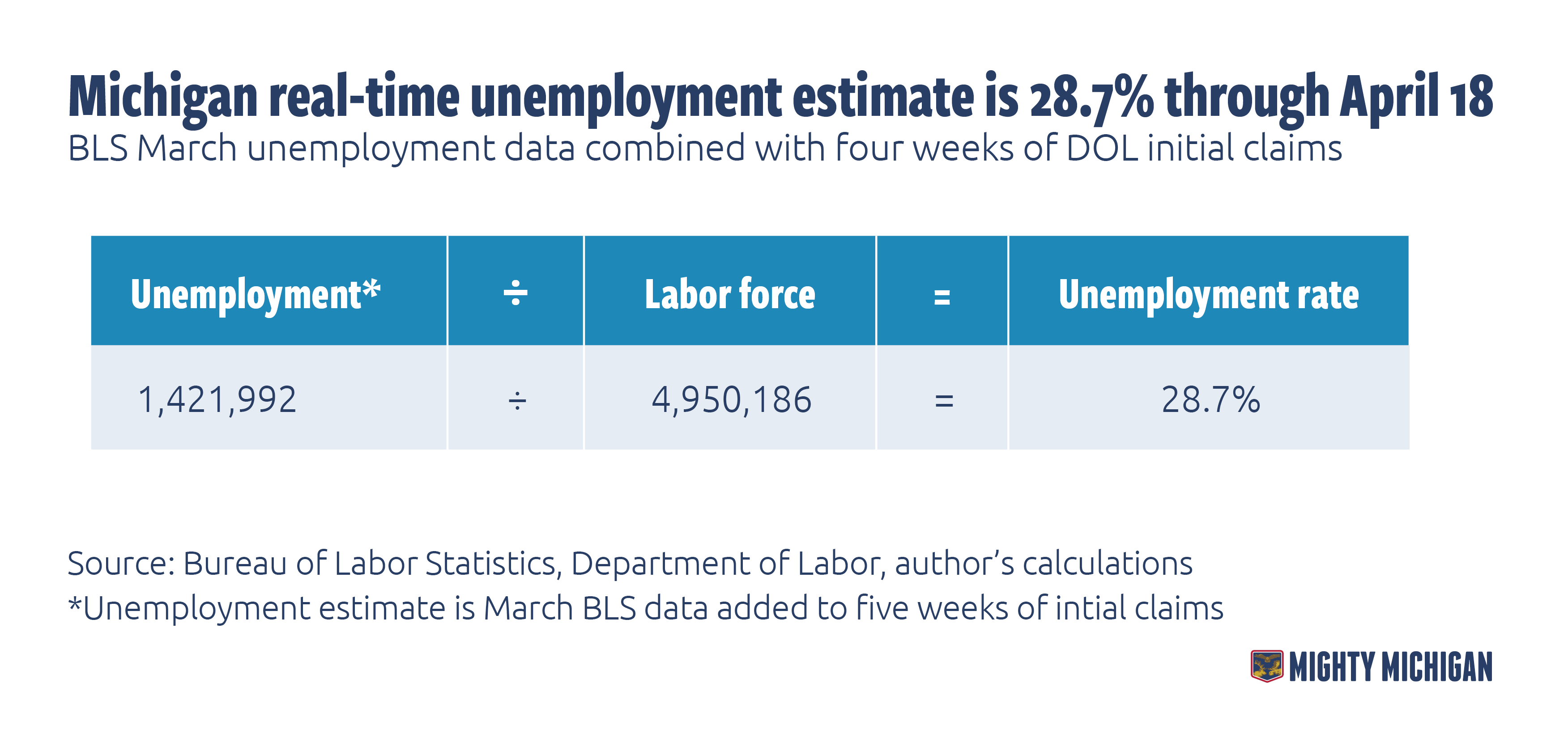 Michigan's robust economic expansion began after the Great Recession and decelerated in 2019. Outright economic contraction began in March, and unprecedented job loss has occurred over the past two months.
The pandemic recession began with the most rapid economic contraction in American history. The recovery will be prolonged due to extraordinary disruptions to supply chains and investment pipelines. Many businesses that closed due to the healthcare crisis will never reopen. Labor, capital and economic resources will need to be reallocated across the economy for new uses. This process will take time, and will involve the best efforts of the businesses that survive along with entrepreneurs who find ways to solve problems related to this economic disruption.
Michigan policymakers can soften the brunt of the recession by enacting tax relief to help businesses preserve liquidity. The Wolverine State should allow businesses to take net operating loss (NOL) carrybacks for two years, and to take accelerated loss carryforwards. In addition, Michigan should allow for full expensing of capital investments by permanently adopting the expensing provisions enacted in section 168(k) of the Internal Revenue Code.
Occupational licensing reform has already helped Michigan weather this crisis, and can be used to allow Michiganders get back to work when the healthcare crisis is over. There are 750,000 Michiganders who currently need a government license to work, and thousands more who undoubtedly cannot get work because of licensing burdens. Loosening up licensing requirements would make it easier for more people to get to work.
Finally, Michigan should repeal its certificate of need law, which arbitrarily restricts hospitals from adding on capacity until they obtain permission from a government panel. Certificate of need reform makes sense in any time, but especially in response to a viral pandemic.
Broader reforms should be considered to eliminate inefficiencies and rent-seeking that are allowed by public policies. These three policy areas are a start for pro-growth reforms that are needed to recover. Michigan policymakers should consider every policy option possible to conserve state funds, cut red tape and allow entrepreneurs and workers to create a thriving economy once the pandemic recession ends.