Michigan saw weakest jobs growth in a decade in 2019, down manufacturing jobs
Michigan policymakers should take steps to brace the state's soft economy for the impact from the global coronavirus pandemic.
Michigan's labor market had its weakest expansion of the past decade in 2019, according to annual jobs data revisions from the Bureau of Labor Statistics, released March 16 – entering 2020 with soft jobs growth and slow GDP expansion.
The Wolverine State gained only 400 payroll jobs in January, though the unemployment rate dropped from 3.9% to 3.8% on the month. Michigan should expect significant economic and labor market disruptions from March onward due to the economic dislocations caused by the coronavirus.
The Wolverine State's successful past decade was in part engineered by tax and labor market reforms which helped the state bounce back from the Great Recession. Policymakers should secure these gains and create the next set of policy tools to advance Michigan to greater economic growth.
Overall growth and sector-by-sector breakdown
2019 was Michigan's weakest year of payroll jobs growth in the last decade. The state's total gain of 16,900 jobs was less than half of Michigan's second-worst performance on the decade, which was +36,900 jobs in 2017. 2019 was also the only year in the past decade when Michigan lost manufacturing jobs (-5,100).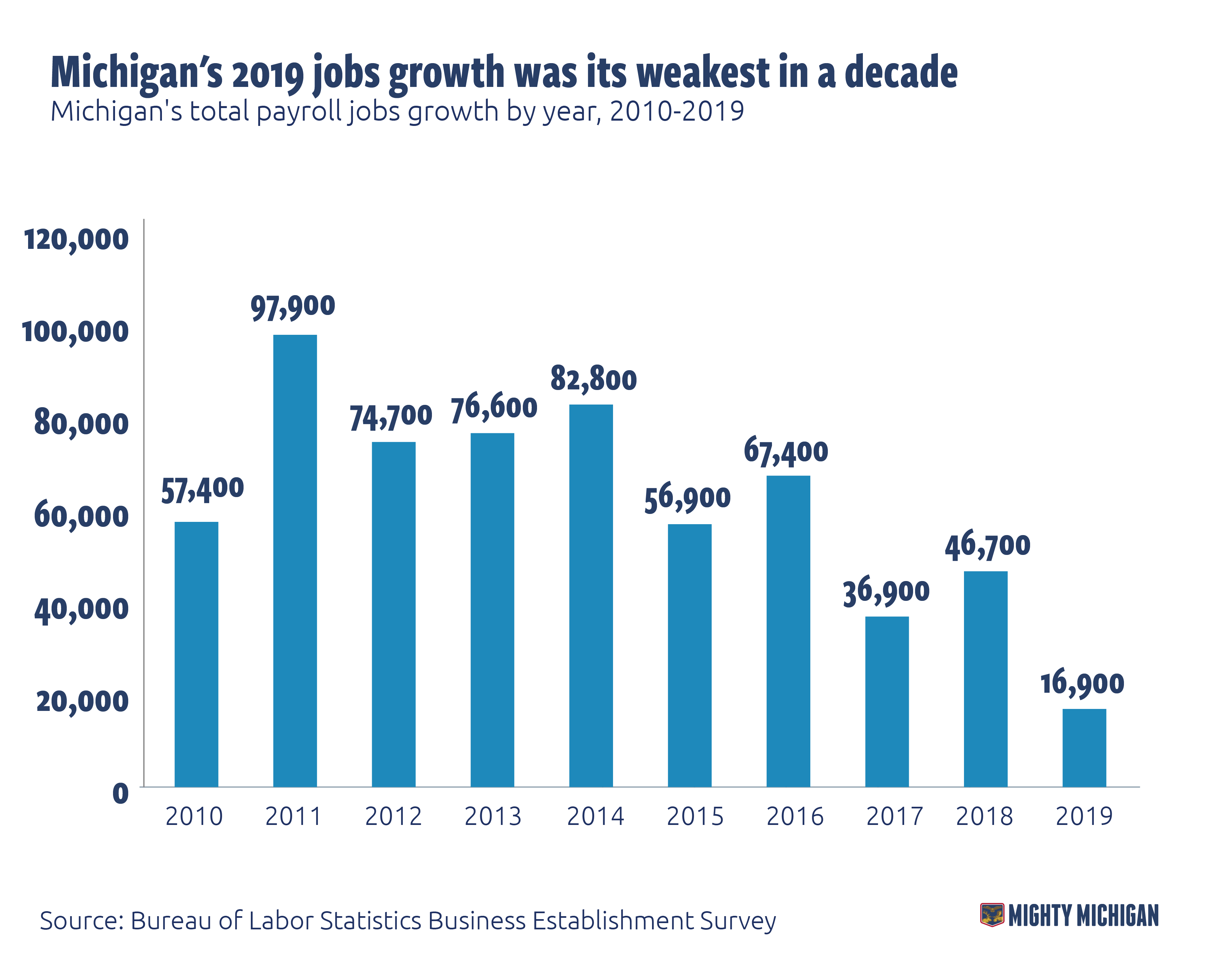 The Bureau of Labor Statistics releases annual revisions for prior year data every March. Michigan's initial 2019 gain of 19,500 jobs was revised down to a gain of 16,900 jobs. There were significant changes in gains and losses in some sectors. Upward revisions were significant for Construction, Trade Transportation and Utilities, and Education and Health Services. Significant downward revisions were concentrated in Professional and Business Services, Government, and Leisure and Hospitality.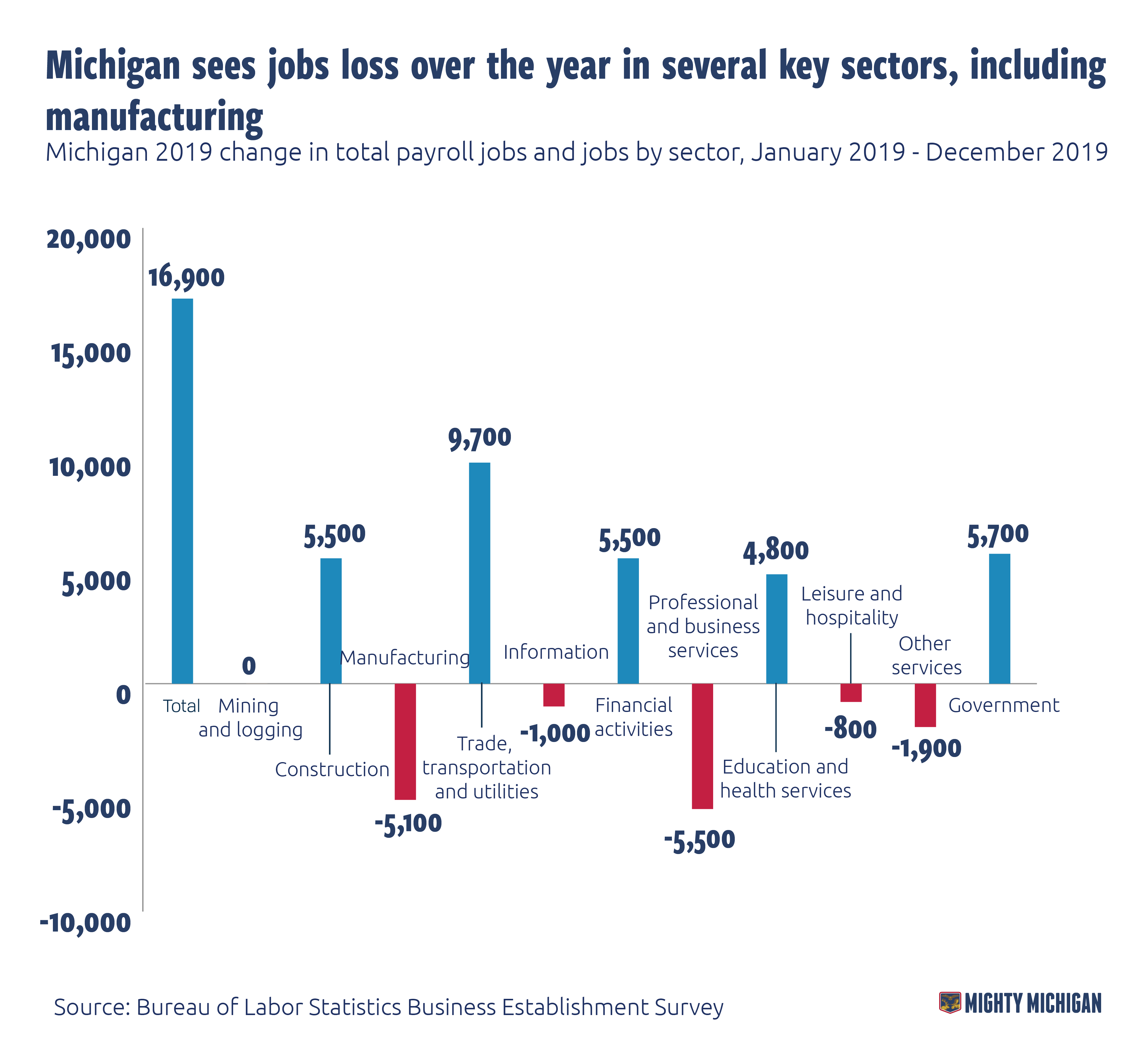 Leisure and Hospitality, Trade Transportation and Utilities, Manufacturing and some portions of Professional and Business Services will see significant disruptions in 2020 due to the economic and financial impact of the coronavirus.
Michigan saw weak employment growth in 2019
The Bureau of Labor Statistics' Household Survey measures how large the labor force is and breaks down the labor force into those who are employed and those who are unemployed. Preliminary 2019 data from January showed Michigan's labor force had expanded by 53,000; made up of a gain of 58,000 additional employed and 5,000 fewer unemployed.
However, the benchmark revisions from March showed these initial estimates were optimistic. In the final count, Michigan's labor force expanded by only 5,000; with a gain of 17,500 employed and a decrease of 12,500 unemployed.
Michigan's labor force has steadily grown since 2010, with strong gains in the count of Michiganders who described themselves as employed in each year since 2010. But last year's growth in household employment was the weakest since 2010.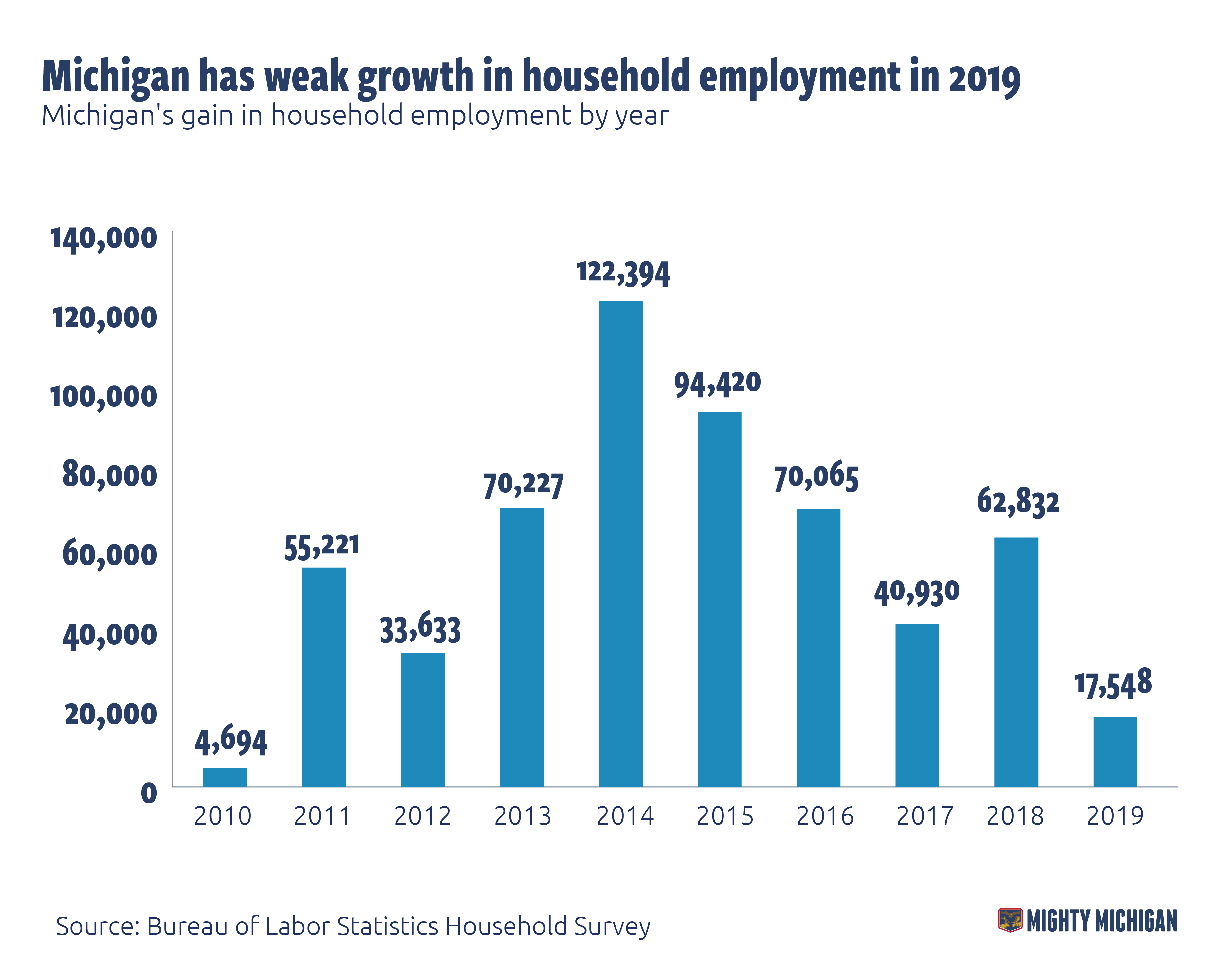 How Michigan should brace for economic impact in 2020
Michigan's labor force slowdown was felt broadly across all labor indicators in 2019. Unfortunately, the outright pain and economic contraction of 2020 will likely dwarf the slowdown of 2019.
Policymakers should respond appropriately. First, tax increases such as a progressive income tax or a gasoline tax increase should be taken off the table. Tax increases will simply weaken investment and consumer demand that is already beginning to collapse. An expansion of unemployment insurance, which will be driven by the federal government, should be temporary for the duration of the crisis.
Michigan should create additional tax reforms that will fix the state's tax code and help with the pandemic crisis. The Wolverine State currently disallows net operating loss (NOL) carrybacks. Creating an NOL carryback provision would let companies deduct losses from 2020 against gains in prior years and thus preserve critical near-term liquidity rather than waiting to deduct those losses against gains in future years the company might not survive to see.
Michigan should adopt full expensing for business investments in machinery and equipment as a permanent feature of its tax code. The federal version of this provision, enacted in section 168k of the federal tax code, is scheduled to begin phasing out after 2022. Automakers are fighting to make this critical change permanent at the federal level, and Michigan lawmakers should act to make the same feature a permanent part of the state's code. If lawmakers want to help tide over companies that have recently been investing in the Wolverine State, this expensing provision can even be made retroactive to 2018, which would be in line with when federal provision took effect.
Another set of pro-growth labor and construction reforms are needed as well.
Michigan's right-to-work law took effect in 2013, creating more economic and financial freedom for 648,000 Michiganders who are currently represented by unions. However, economist Morris Kleiner estimates 750,000 Michiganders are currently subject to occupational licensing regulations, and untold thousands more are blocked from working by government licensing regimes. The coronavirus pandemic has made clear that cumbersome licensing stands in the way of the flexible, dynamic labor force that is needed during a crisis. These restrictions should be temporarily amended waived for occupations where there are critical needs in the short-term, and reconsidered altogether after the crisis ends.
In addition, Michigan improved its construction laws in 2018 by repealing state government wage and regulation requirements for public construction projects. However, state government "certificate of need" requirements still stand in the way of hospitals that want to expand and create critical new healthcare capacity. These requirements should be waived in the short run, and teed up for full repeal altogether after the crisis ends.
The pandemic crisis will create significant economic pain and labor market dislocations. While the federal government will likely step up with significant economic relief, states like Michigan need to do their part to make sure their economic growth and healthcare capacity are maximized throughout this crisis and going forward.