Michigan records strong jobs growth in final month before pandemic fallout
The state's jobs growth has eclipsed its peers for the past decade. But policymakers must brace for heavy jobs loss from the COVID-19 pandemic.
Michigan recorded one of the nation's best months of job creation in February, according to new data from the Bureau of Labor Statistics. The Wolverine State picked up 12,900 payroll jobs in February and the state unemployment rate dropped from 3.8% to 3.6%. Michigan was joined by Texas (+50,400); Massachusetts (+11,400) and Alaska (+2,000) as the only four states to have statistically significant job growth in February based on percentage increase.
Michigan's unemployment fell for good reason on the month – the labor force grew and over 6,800 unemployed workers found jobs.
February represents the last month of job growth before the economic fallout begins from the coronavirus pandemic. It is good news that Michigan had such a strong month as an economic storm begins. Even better news is that Michigan's growth of the last decade has outpaced neighbors (despite a weak 2019), meaning the Wolverine State picked up lots of jobs when it could.
As the pandemic recession begins, Michigan will lose a significant number of jobs, as will every other state. State unemployment insurance claims already indicate that March will be a very ugly month, with Michigan's 129,298 claims from the week ending March 21 far beyond Michigan's peak weekly claims of 76,702 during the Great Recession.
Strong jobs growth in February
Michigan gained 12,900 jobs in February, according to preliminary data. Only Manufacturing (-3,300) showed job losses on the month, which is always a painful loss in Michigan. However, growth in every other sector, led by Professional and Business Services; Education and Health Services; and Trade, Transportation, and Utilities (+2,700) made for a strong month on the payroll jobs survey.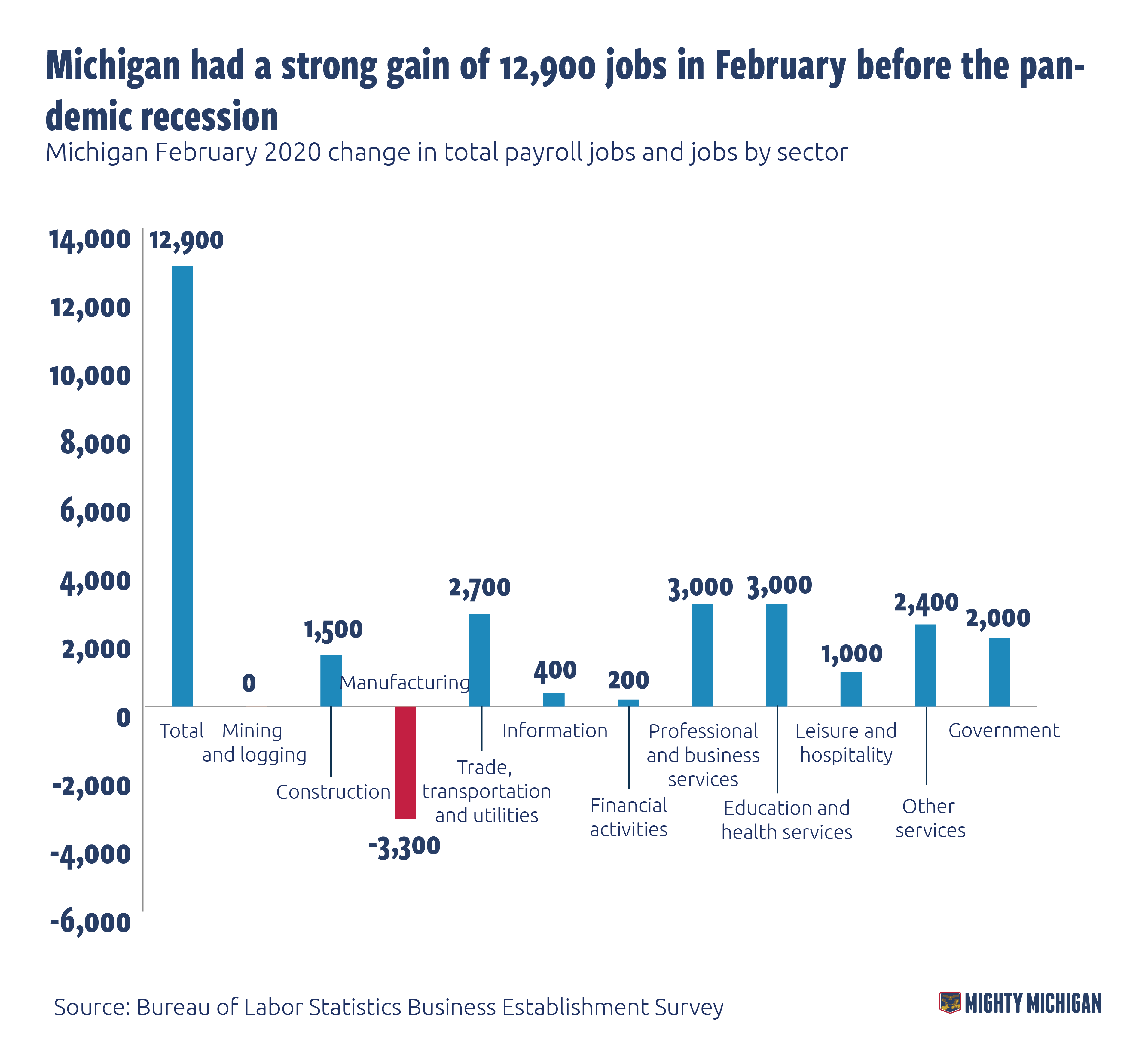 Healthy growth in the labor force
Michigan's growth in employed workers (+10,125) more than eclipsed the decline in unemployed workers (-6,846). This means the unemployment rate dropped as a result of Michiganders finding jobs, rather than dropping out of the labor force altogether.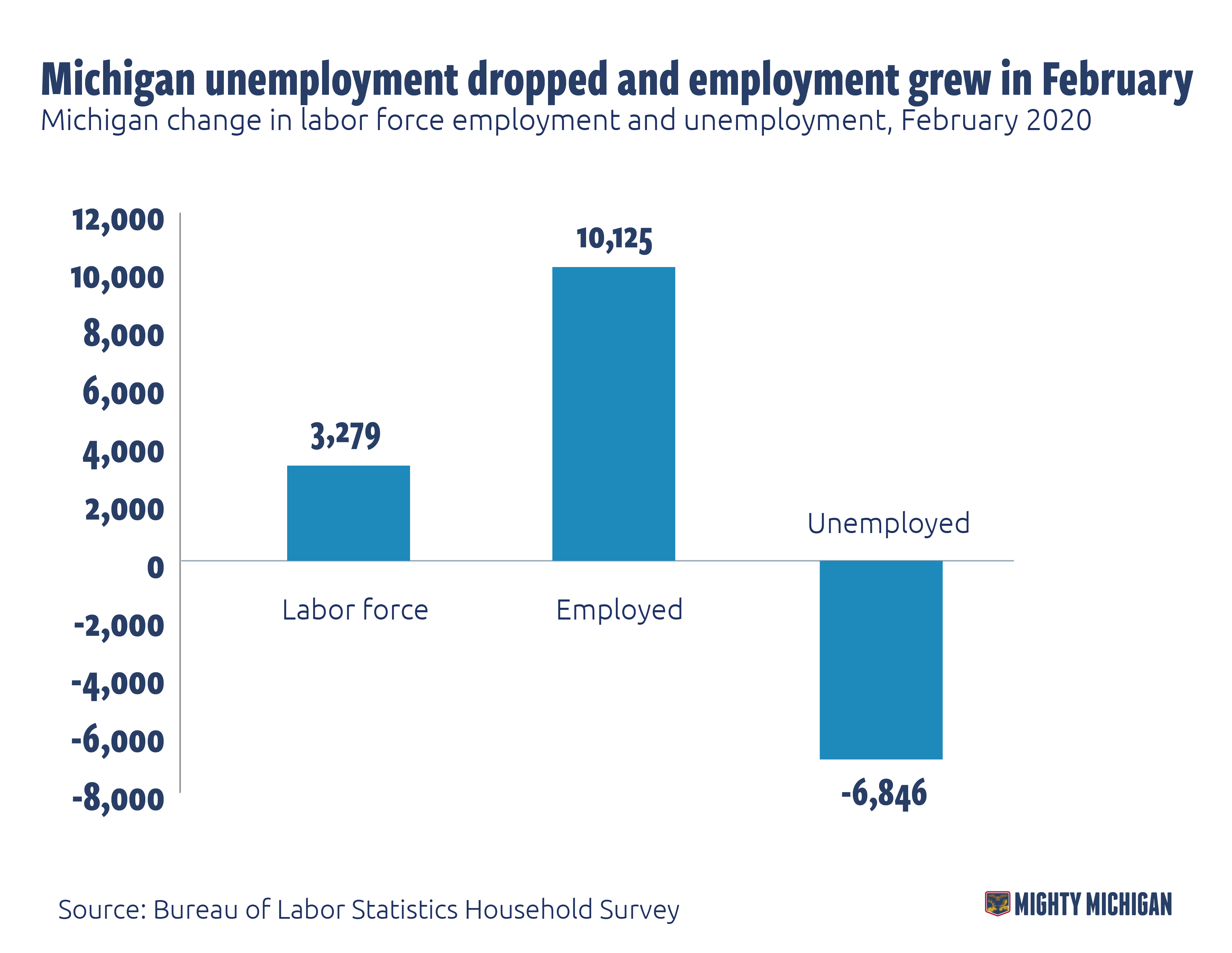 Michigan 10-year results versus Great Lakes neighbors
Michigan's jobs growth has outperformed its Great Lakes neighbors over the last decade. The Wolverine State undoubtedly was hit hard during the Great Recession, but it has also bounced back strongly.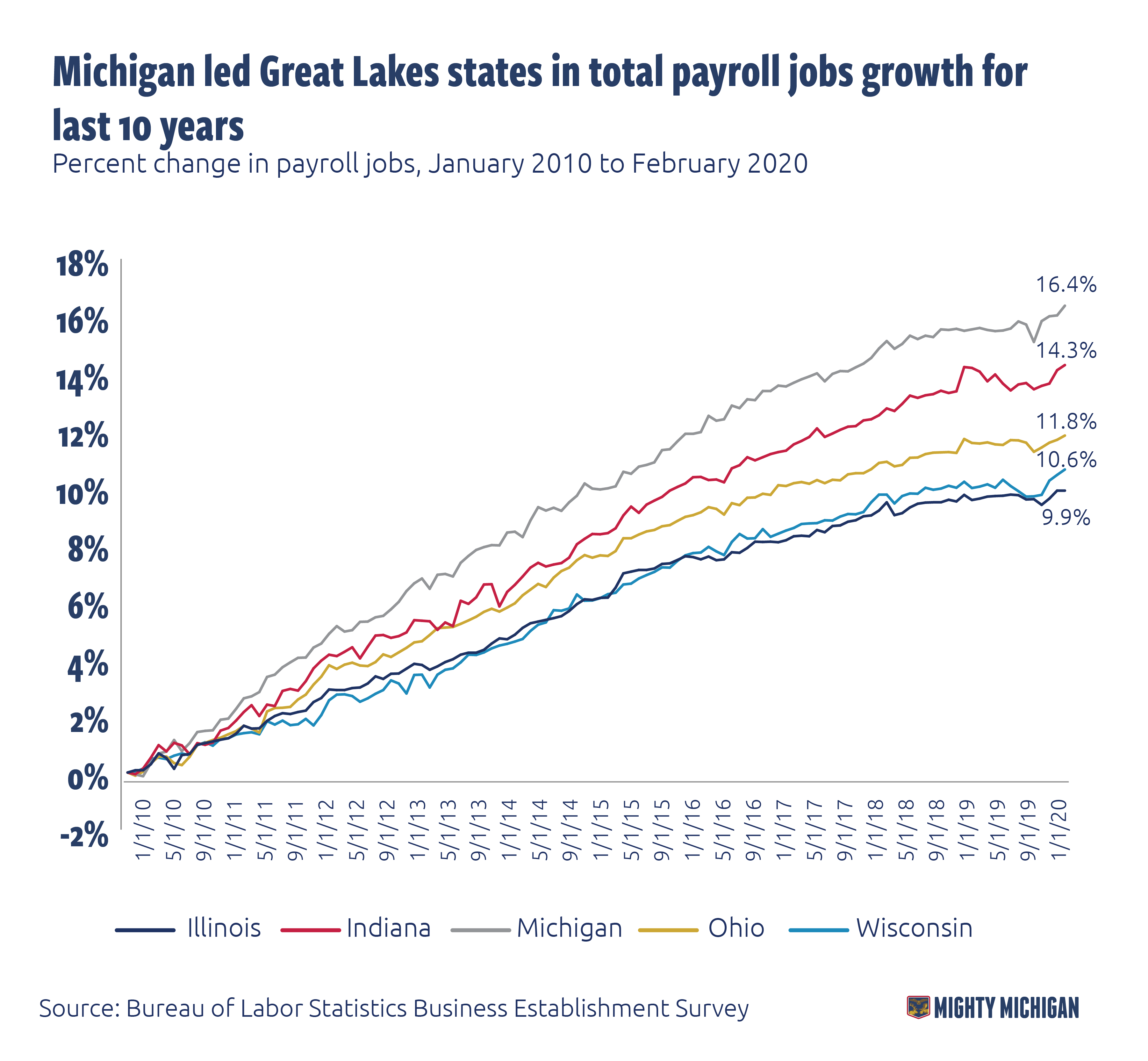 This comparison stretches from January 2010 to February 2020. It is worth noting that Michigan and Indiana both hit their jobs bottom in July 2009, whereas Wisconsin (September 2009), Illinois (January 2010), Ohio (February 2010) bottomed out later. That means this comparison actually disfavors Michigan and Indiana, and favors those states that bottomed out closer to January 2010 – it captures their growth more fully while missing some of Michigan's and Indiana's. Nonetheless, Michigan comes out on top.
Michigan's broader jobs growth and economic bounce-back have been driven by rapid expansion in the manufacturing sector. Thus, it's no surprise that Michigan outperformed its Great Lakes neighbors for manufacturing jobs growth as well.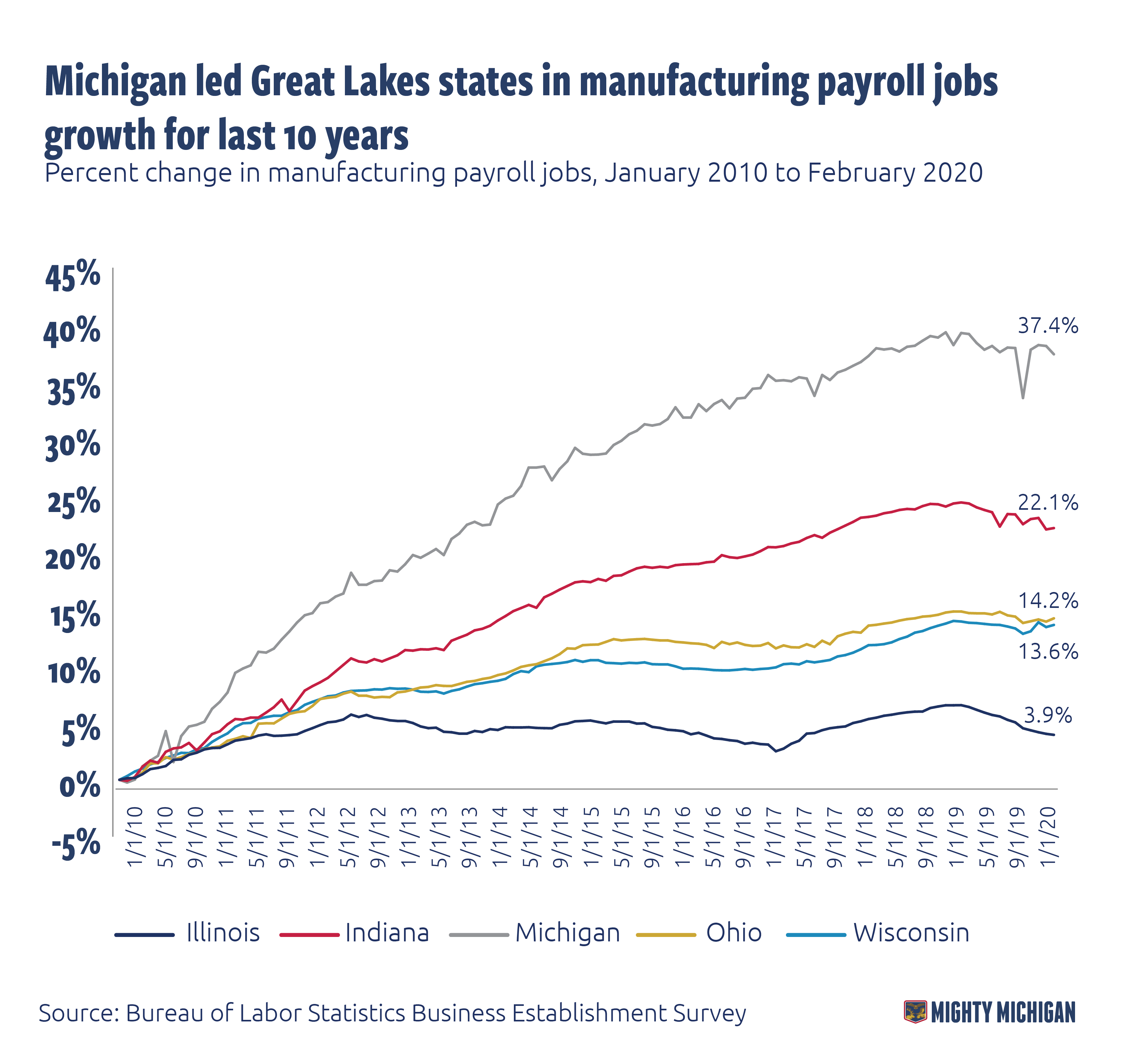 Finally, Michigan also showed strong growth in household employment over the last decade. This metric differs from payroll jobs growth. The Bureau of Labor Statistics measures payroll jobs by surveying businesses and asking them about their payroll changes.
Household employment is measured by the Bureau of Labor Statistics by calling American households and asking them about their status as employed, unemployed and in and out of the workforce. This is how the unemployment rate is calculated. While household employment and payroll jobs move in the same direction over the long run, what they measure is slightly different. Michigan is second to only Indiana for growth in household employment over the last decade.
Policy reforms to spur a strong recovery
All states will experience sharp job losses in coming months. However, when the recession finally bottoms out they will differ in how they bounce back. Michigan had a strong recovery from the Great Recession in part because the auto industry recovered and in part because Michigan policymakers enacted significant pro-growth reforms, including tax reform, labor reform and construction law reform.
Michigan should repeat that success by enacting policy reforms that help the state deal with the pandemic and help the state bounce back.
On the tax reform front, Michigan should quickly move to allow for two years of net operating loss (NOL) carrybacks and accelerated NOL carryforwards, which will allow businesses more quickly recover overpayments of taxes. Businesses will be starved for that liquidity in coming months.
Michigan should also allow for full and immediate cost recovery for investments in machinery and equipment, as is allowed under federal law. Current Michigan law discriminates against investments in the Wolverine State. This can be fixed by allowing for full expensing as the federal government allows under section 168k of the internal revenue code.
Policymakers should respond appropriately. First, tax increases such as a progressive income tax or a gasoline tax increase should be taken off the table. Tax increases will simply weaken investment and consumer demand that is already beginning to collapse. An expansion of unemployment insurance, which will be driven by the federal government, should be temporary for the duration of the crisis.
A new construction reform can be enacted by repealing Michigan's certificate of need (CON) law. Michigan's last construction law reform was when the state repealed prevailing wage law in 2018, which made it so that public works no longer needed to be controlled by union wage rates and regulations. Certificate of need reform is different, as it controls how much building and capacity hospitals and healthcare providers can add. The coronavirus has shown it is bad policy to limit hospital expansion by state law. Certificate of need should be repealed to allow more construction and to prepare for any future pandemics.
Finally, Michigan can provide more worker freedom. Michigan's right-to-work law, effective 2013, freed 648,000 Michiganders who are currently represented by unions from having to pay union fees to keep their job. There are another 750,000 Michiganders who are currently subject to occupational licensing regulations, and untold thousands more are blocked from working by government licensing regimes. Another round of worker freedom can be achieved through occupational licensing reform, which will lead to more jobs and economic growth. It will also result in more labor capacity in areas of acute need, such as healthcare workers.
Michigan needs to prepare for difficult times. And one of the best ways to do that is to prepare for a strong recovery. Luckily for the Wolverine State, they need only look to their own past to unlock their future recovery.