Michigan's real-time unemployment rate spikes to 26%
The Wolverine State is home to the third-highest real-time unemployment rate in the nation.
Michigan had the Great Lakes region's best recovery from the Great Recession. But when the U.S. economy went into a free-fall, Michigan rapidly shed jobs. The Wolverine State now has the nation's third-highest real-time unemployment rate of 26%.
Michigan's robust economic expansion after the Great Recession decelerated in 2019. That deceleration turned into rapid contraction in March, according to data from the Bureau of Statistics released April 17. The BLS report shows Michigan entered the first few weeks of the recession at a similar pace to other states. However, initial unemployment claims data from the Department of Labor show Michigan job loss quickly accelerated in the next four weeks, causing the state's real-time unemployment rate to spike.
The pandemic recession will be nasty and likely prolonged. To set the stage for healthy growth, Michigan state lawmakers should reboot the successful strategy they used to bounce back from the Great Recession.
March 2020: Michigan's first month in recession
Michigan lost 24,300 payroll jobs in March according to BLS survey data from the week ending March 14. More than half of those losses were Leisure and Hospitality jobs (-12,800). This reflects the fact that public gatherings were quickly curtailed when consumers realized the health risks involved and governments imposed social-distancing guidelines. All economic sectors except for Financial Activities showed job losses.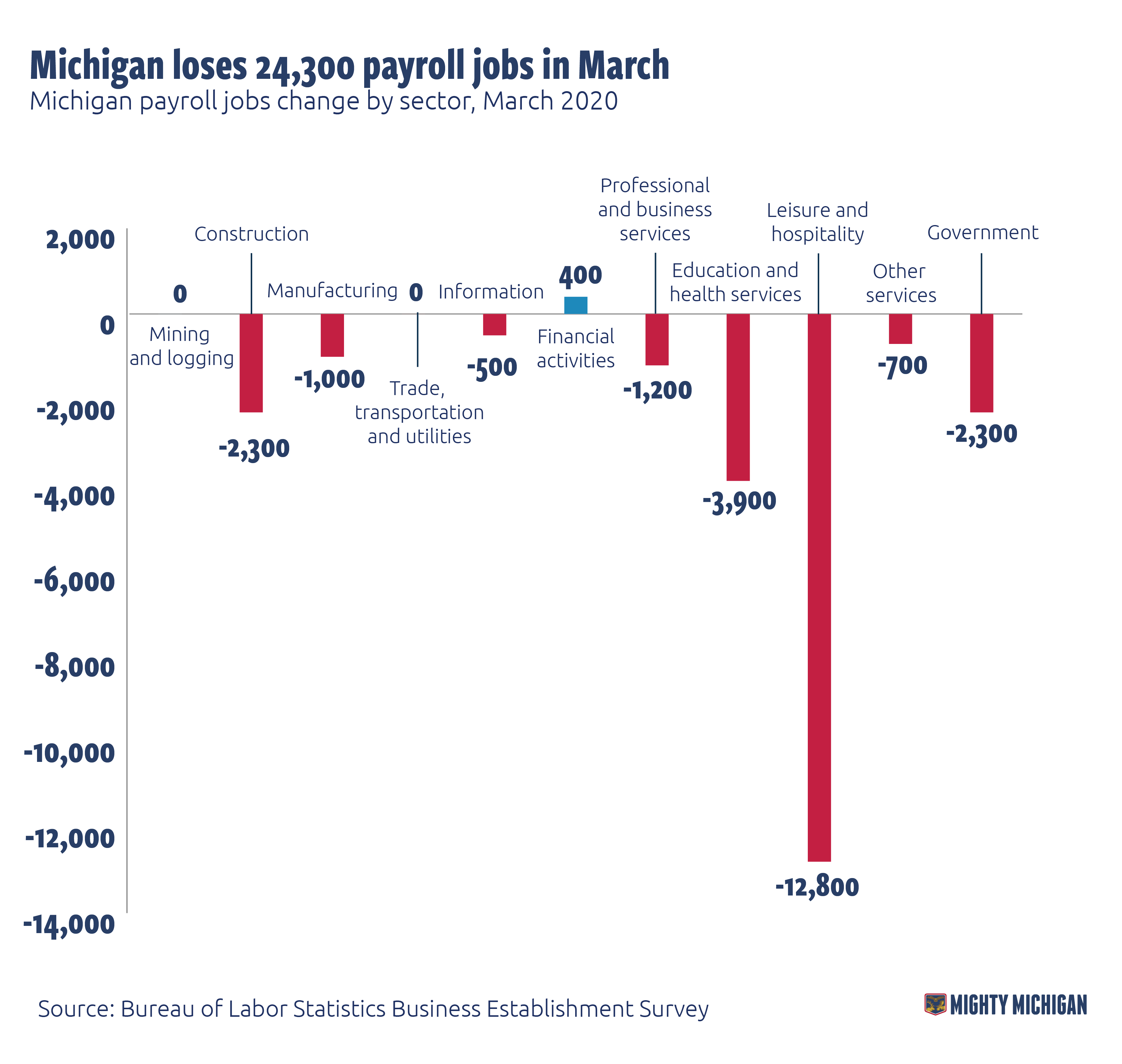 It is important to note that the "survey week" for the BLS was March 9-13. Layoffs that occurred later in the month are not recorded in this data.
64,000 fewer Michigan residents counted themselves as employed in March, with 20,000 of them being recorded as unemployed and 44,000 being recategorized as out of the workforce. These categorizations are due to a technical distinction, and all 64,000 who lost employment are effectively unemployed.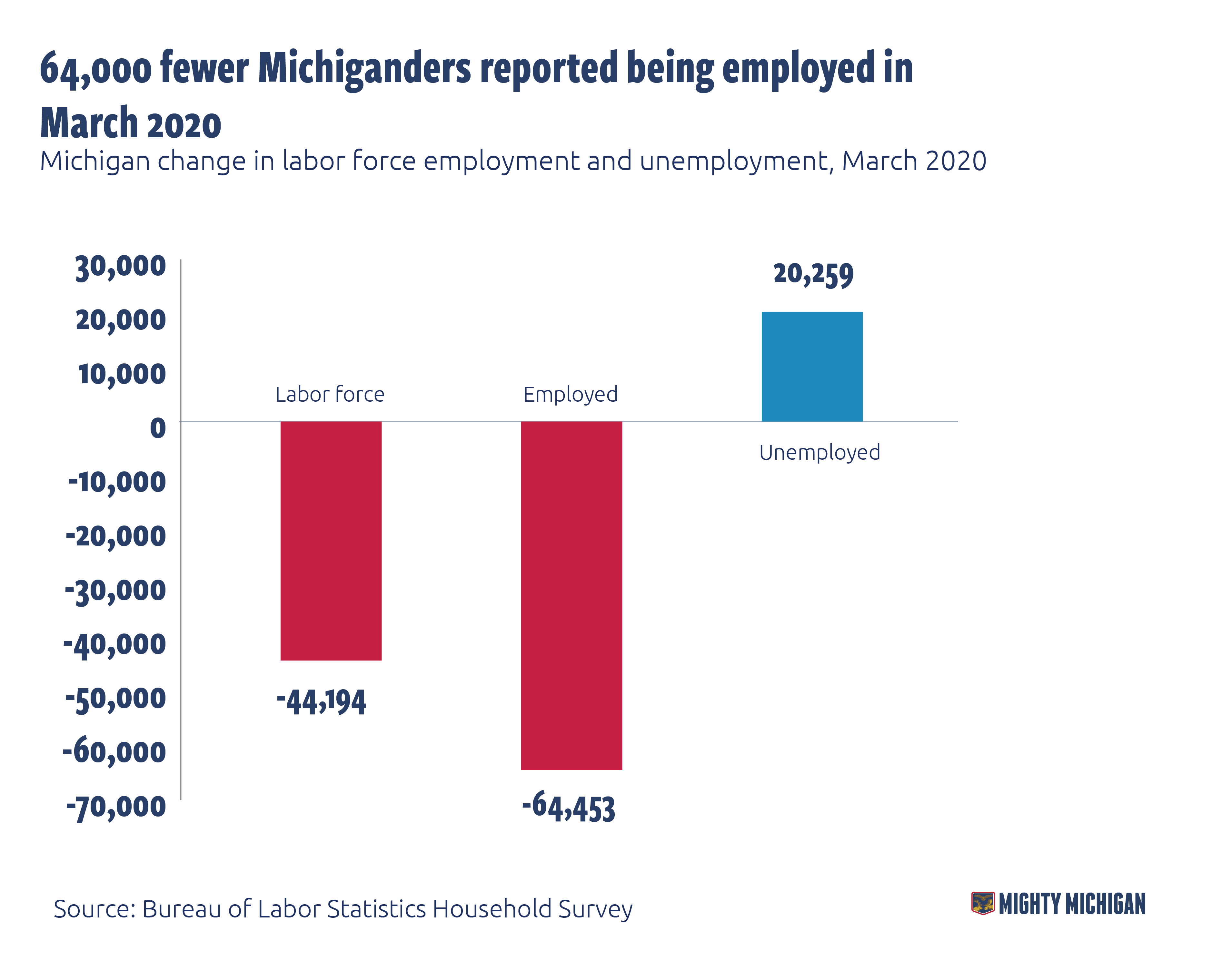 Michigan economy rocked by 1 million new unemployment claims
More than 1 million Michiganders applied for unemployment benefits in the four weeks after March 14, meaning they became unemployed after the BLS conducted its March jobs survey. Initial unemployment claims are released by the Department of Labor each Thursday and reveal unemployment claims filed in the previous week.
The BLS conducted its jobs survey the week ending March 14. The Department of Labor showed only 5,338 new unemployment claims filed the week ending March 14. However, unemployment insurance claims have risen steeply since the week ending March 14, with a total of 1,040,215 initial claims being made in the four weeks ending April 11.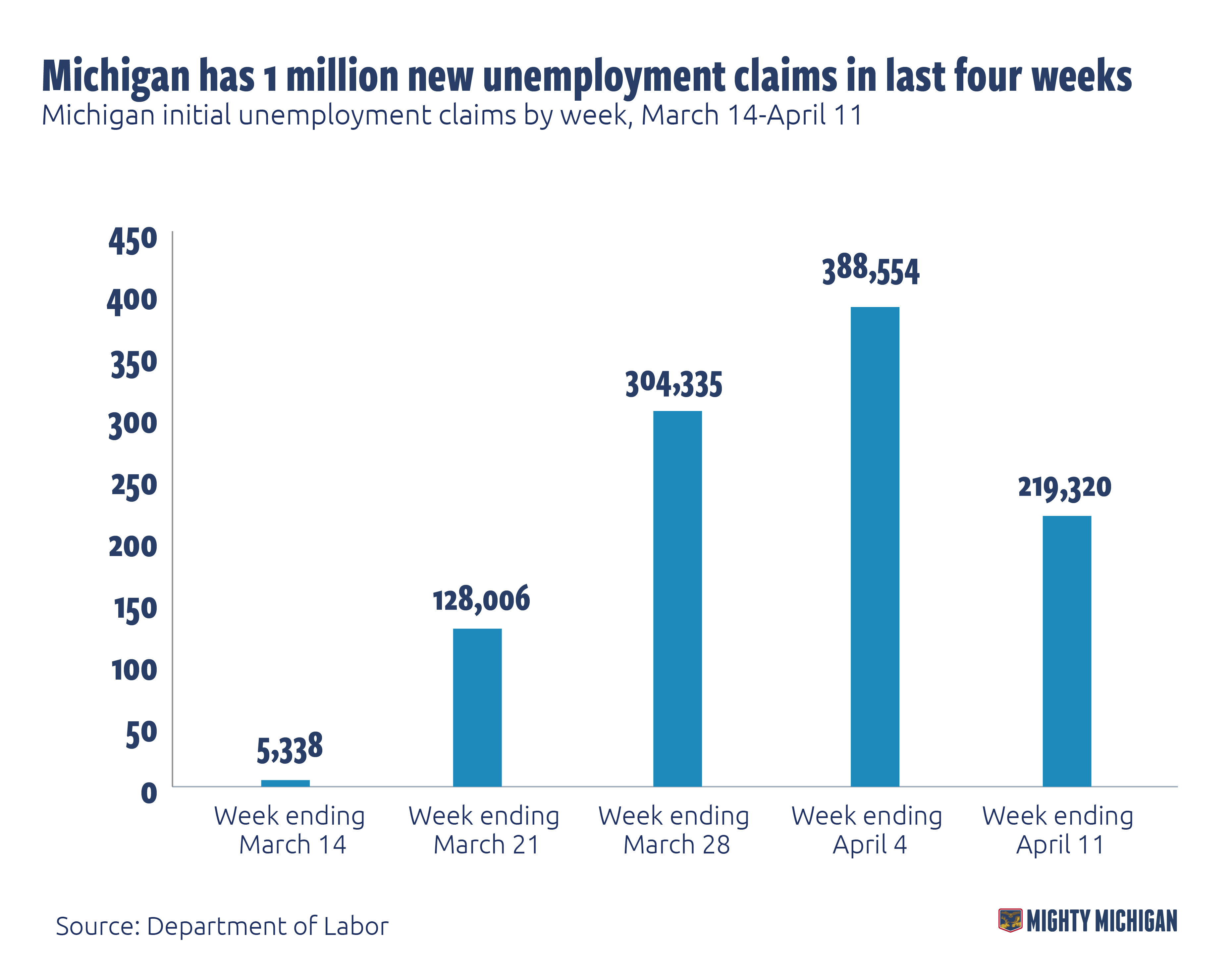 Michigan's official unemployment rate is recorded as 4.1% in the March BLS report. However, the BLS report recategorizes 44,000 Michiganders who recently lost employment as out of the workforce in March. Furthermore, Michigan has had more than 1 million initial unemployment claims made after the BLS calculated the state's unemployment rate. If those workforce dropouts and initial claims are counted as unemployed, Michigan's real-time unemployment estimate is 26%, just barely behind Pennsylvania (26.1%) and Kentucky (26.2%) – the two highest in the nation.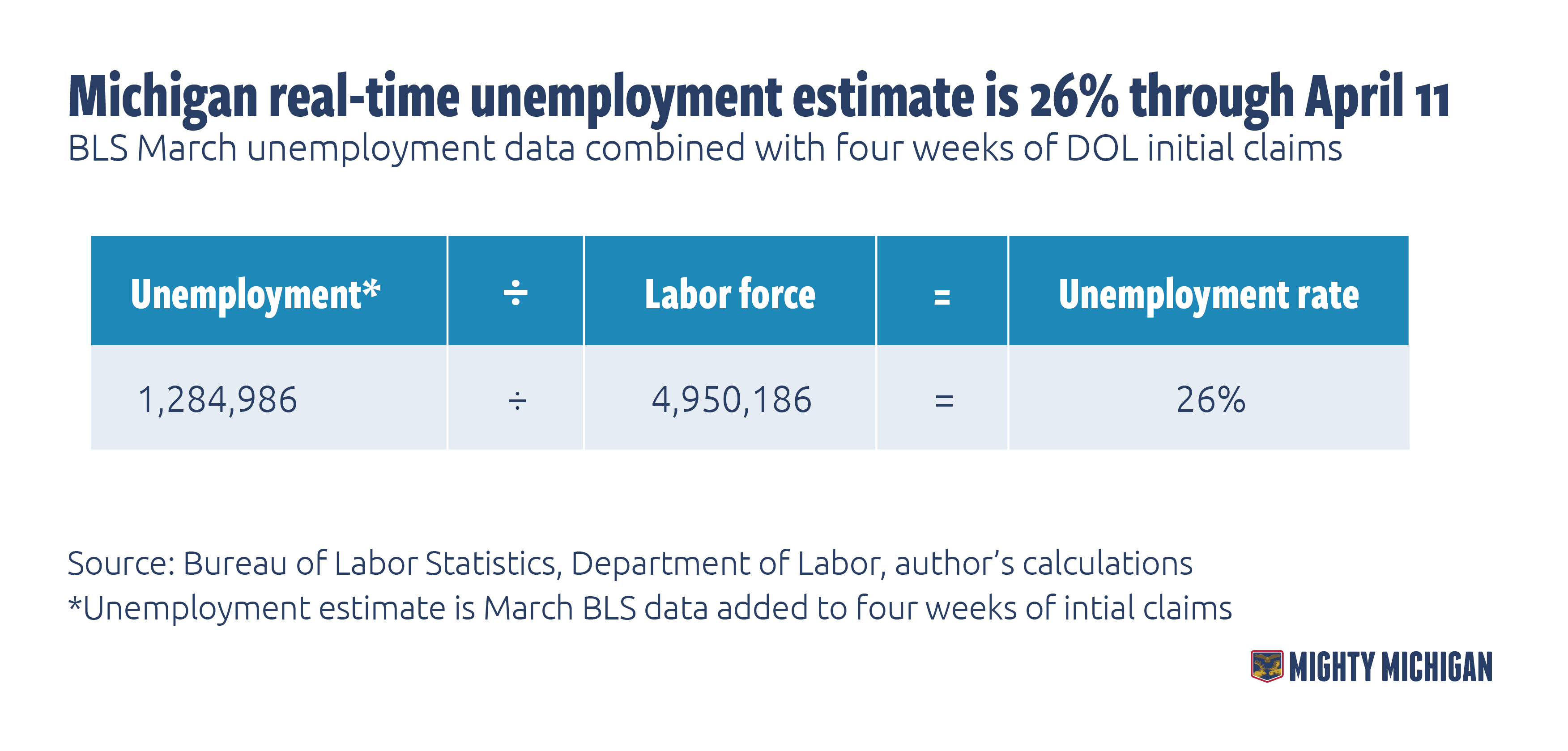 Michigan policymakers should soften the recession by enacting tax relief to help businesses preserve liquidity. The Wolverine State should allow businesses to take net operating loss (NOL) carrybacks for two years, and take accelerated loss carryforwards. In addition, Michigan should allow for full expensing of capital investments by permanently adopting the expensing provisions enacted in section 168(k) of the Internal Revenue Code.
Michigan should also cut red tape so hospitals and healthcare providers can add new health care capacity by repealing its certificate of need law. Such laws arbitrarily require hospitals to obtain permission from a government panel before they add the healthcare capacity that consumers need. Certificate of need reform makes sense in any time, but especially when there is a viral pandemic.
Finally, occupational licensing reform would help Michiganders get back to work when the public health crisis subsides. There are 750,000 Michiganders who currently need a government license to work. Loosening up licensing requirements would make it easier for more people to get to work when the recession is over.
These three policy areas are a start. Michigan policymakers should consider every policy option to cut red tape and allow entrepreneurs and workers to create a thriving economy once the pandemic recession ends.