Michigan population loss among worst in the nation
New Census Bureau numbers show Gov. Gretchen Whitmer oversaw a loss of population in Michigan, marking the state's second year in a row of population decline – the only two periods since the Great Recession.
Michigan saw its population plummet by 18,240 people between July 2019 to July 2020, according to newly released Census Bureau data – marking the second year in a row the state has posted a population decline.
Michigan's previous two years are the only to experience a population loss during the last decade, with the most recent population decline estimate significantly surpassing the prior year's decline of 2,491.
Michigan's population loss between July 2019 and July 2020 ranks as the fourth-worst decline in the country – behind only New York, Illinois and California.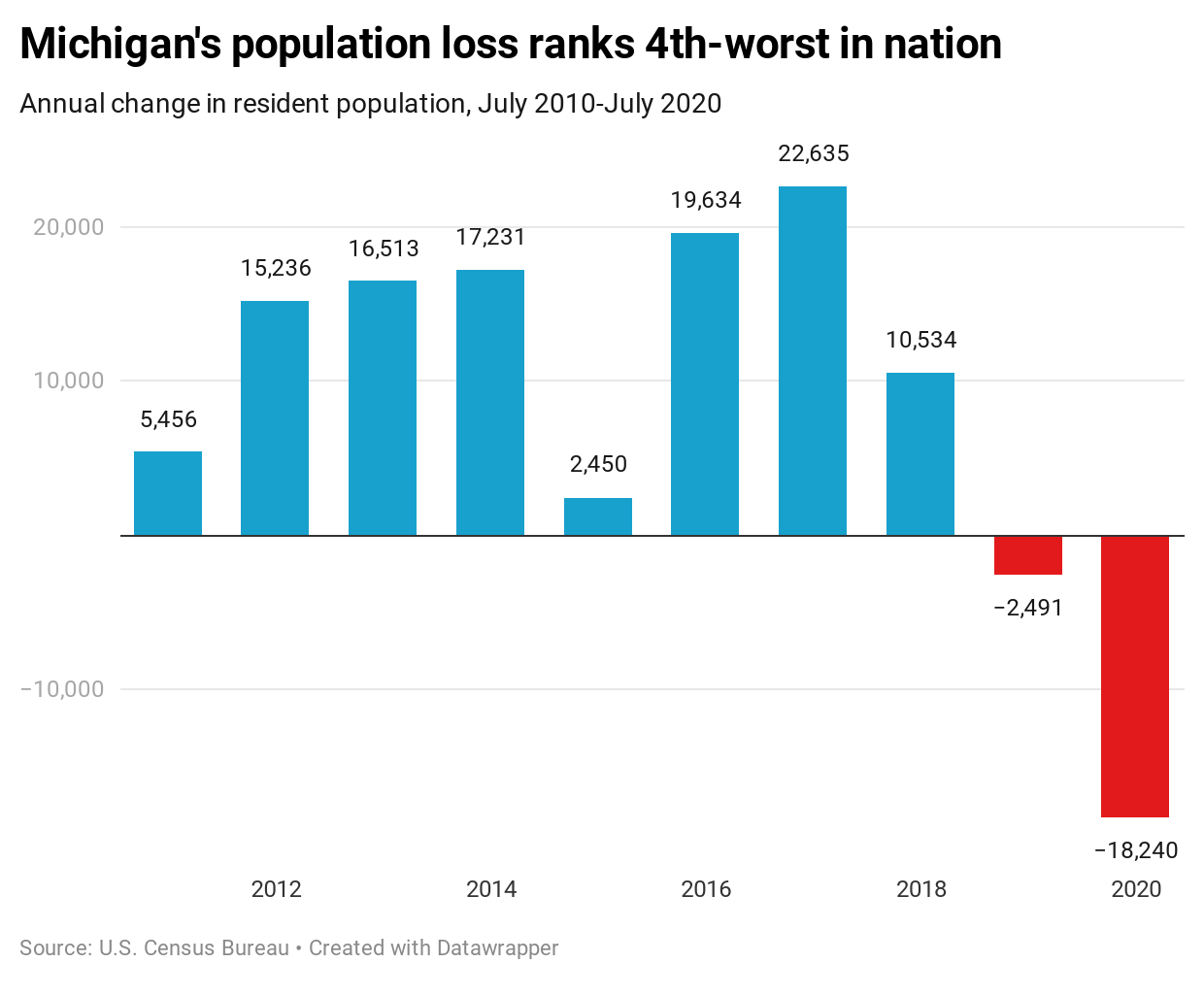 The reasons for the decline – or components of change such as births, deaths, international and domestic migration – will be released by the Census Bureau later this year.
The decline in population spells problems for the state's economic well-being and tax base, only adding to the economic concerns of a state plagued by high unemployment.
There are also political consequences to this declining population trend. Since the number of U.S. House of Representatives seats a state receives is based on its total population, the University of Michigan Population Studies Center projects Michigan to lose a seat in the House and consequently lose a vote in the Electoral College based on the estimates from the Census Bureau. Michigan is also likely to receive a smaller share of federal funding due to its now smaller population.
This disappointing population trend is concerning, but not all that surprising. Michigan saw its weakest jobs growth in a decade in 2019, and a worsening job environment stemming from burdensome tax and regulatory policy has clearly played a role in the state's declining population.
Several key reforms could have significant positive effects for the Michigan economy, as the state attempts to pursue a successful economic recovery. Allowing for a Net Operating Loss carry back provision would let companies deduct losses against gains in previous years, rather than them having to deduct losses against gains in future years they may not even be around to see.
Including a provision that adopts full expensing for business investments in machinery and equipment as a part of the state's tax code would encourage investment in the Wolverine state, as the federal version of such a provision is set to phase out after 2022.
Michigan should also part ways with burdensome occupational licensing regulations that impact an estimated 750,000 Michiganders and prevent countless others from working altogether.
Another regulatory hurdle that lawmakers should look to remove in the short term – and even consider for full repeal after the conclusion of the COVID-19 public health crisis – is Michigan's requirement for "certificates of need." Certificates of need often block hospitals from expanding and providing additional healthcare capacity that is especially needed during the pandemic.
These economic concerns are compounded by Gov. Gretchen Whitmer responding to the coronavirus crisis by enacting unnecessary restrictions on small businesses and overbearing stay-at-home orders, leading many Michiganders to decide they are better off moving out of the state to safeguard their livelihood, rather than having to manage under heavy-handed government restrictions.
As Michigan begins a fresh year and hopefully enters the final stage of the COVID-19 pandemic, Whitmer should look to loosening restrictions on small businesses, returning their ability to re-open and resume operations more normally.
Additionally, the state government should work to alleviate much of the regulatory red-tape that is harming the labor market and the state's economic outlook as a whole.
If similar regulation and burdensome policies continue, it likely will result in even further population decline and hamper the state's economic recovery – in turn, adding to the economic problems the state faces.