Michigan real-time unemployment rate rises to 35%
Regardless of when the economy is fully reopened, Michigan policymakers should prepare for economic recovery through tax and regulatory reforms.
Michigan's real-time unemployment rate rose to 35% on Thursday's news that nearly 2 million Americans filed new unemployment claims in the week ending May 30. There are an estimated 1.75 million Michiganders out of work, and 60% of workers in leisure and hospitality jobs were laid off in April alone.
The real-time estimate gives a more current and comprehensive look at joblessness in Michigan compared to the official 22.7% unemployment rate produced by the Bureau of Labor Statistics. The real-time estimate factors in unemployment claims that have been processed after Michigan's April BLS report. Furthermore, the real-time estimate considers as unemployed the 338,000 Michiganders who were working two months ago but have since dropped out of the workforce, while the BLS categorizes those same people as out of the workforce and thus not a factor in the unemployment calculation.
Michigan's real-time unemployment estimate compares poorly with regional competitors, coming in nearly 9 percentage points higher than Indiana, the next highest state. Michigan's high rate underscores the need for a rapid recovery.
Michigan has an estimated 1.75 million unemployed through May 30 on a baseline workforce of nearly 5 million people, giving the state a 35.4% unemployment rate. The real-time unemployment rate factors in Michigan's April jobs report from the Bureau of Labor Statistics, and the weekly unemployment claims from the U.S. Department of Labor.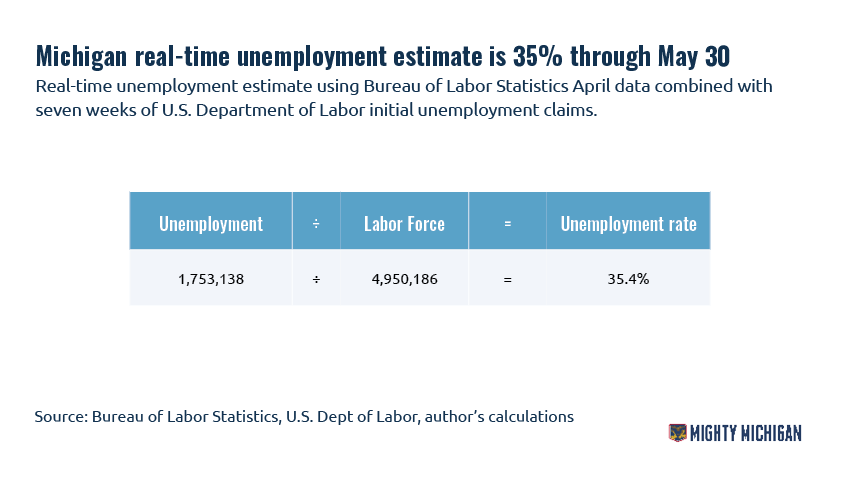 Continuing unemployment claims, which capture part of the picture of ongoing unemployment, remain at peak levels of just under 1 million. Michigan had one of the nation's longest and most restrictive stay-at-home policies until it was lifted June 1, shortly after restrictions on nonessential surgeries were also lifted. Retail stores were allowed to reopen on June 4, and restaurants will be allowed to reopen at 50% capacity on June 8. These restrictions are in place to reduce the spread of the coronavirus, but they exacerbate the economic losses that are the consequence of the pandemic.
Regardless of when the economy is fully reopened, Michigan policymakers should prepare for economic recovery through tax and regulatory reforms.
One of the most important steps of a reopening plan is to protect small businesses with tort immunity from frivolous lawsuits. Businesses across the state have experienced significant losses because of the shutdown and property damage. For some, opportunistic lawsuits will break their businesses.
Michigan businesses should also be provided with net operating loss carrybacks for two years so they can deduct 2020's income losses against prior-year income gains. And Michigan should abolish its partial taxation of business inventories for similar reasons – businesses should not face an undue tax burden while they are suffering steep income losses. Finally, Michigan should provide full expensing to incentivize new business investments as allowed under section 168(k) of the U.S. Internal Revenue Code. Full expensing will help advance Michigan's manufacturing sector and provides the fair treatment of full cost recovery for new investments.
Michigan can cut red tape by reforming occupational licensing, protecting home-based businesses and rolling back excessive local government permitting.
Michigan should universally recognize occupational licenses from other states so workers and families can easily move into the Wolverine State to take a job. Current licensing restrictions are responsible for 80,000 lost jobs in Michigan, so policymakers should create a simpler path to enter a licensed occupation.
Home-based businesses should be protected by the state  by curtailing excessive local red tape. Government permitting requirements should also be reformed.
Michigan needs to transition from the region's highest unemployment rate to the region's strongest recovery. A significant part of that economic lift can be accomplished by enacting pro-jobs, pro-growth public policies.