Senate passes bill to cap governor's debt-issuing power
Gov. Gretchen Whitmer unilaterally moved to borrow $3.5 billion for her road plan in January. State senators just voted to limit that power.
In her State of the State address Jan. 29, Gov. Gretchen Whitmer announced she would borrow $3.5 billion to fund spending on roads and bridges. The new debt – which taxpayers will be paying down for the next 25 years – was approved by an unelected state commission less than 24 hours after Whitmer's speech.
One bill in the Michigan Legislature would end that behavior for good. And members of the state Senate voted to pass it on March 4.
Whitmer circumvented both voters and lawmakers when she pressed the State Transportation Commission to issue $3.5 billion in bonds that will go toward fixing freeways and trunkline roads – less than 10% of the roads in Michigan.
But Senate Bill 716, filed by state Sen. Roger Victory, R-Georgetown Township, would automatically give lawmakers the chance to veto any bonding proposal of $100 million or more from the commission.
The Senate passed SB 716 on a 22-16 vote. The bill now moves to the House Committee on Transportation.
Ironically, Whitmer is expected to veto the bill if it reaches her desk. The General Assembly could override that veto with supermajority votes in the House and Senate.
"This reform would re-establish necessary checks and balances when it comes to how we prioritize the use of taxpayer dollars," Victory said in a statement.
"Michigan is currently spending over $200 million each year on transportation bond payments, but the governor has decided to add even more to our state debt by issuing $3.5 billion in bonds – which will cost Michigan families more than $5 billion to pay off."
Commonsense limits on massive bond deals would go a long way toward making sure Michigan's debt burden doesn't grow further out of hand. Each taxpayer in Michigan already shoulders $17,000 in state debt that they'll ultimately need to pay off through higher taxes, according to fiscal watchdog Truth in Accounting. That's the second-highest burden in the Midwest, behind only Illinois.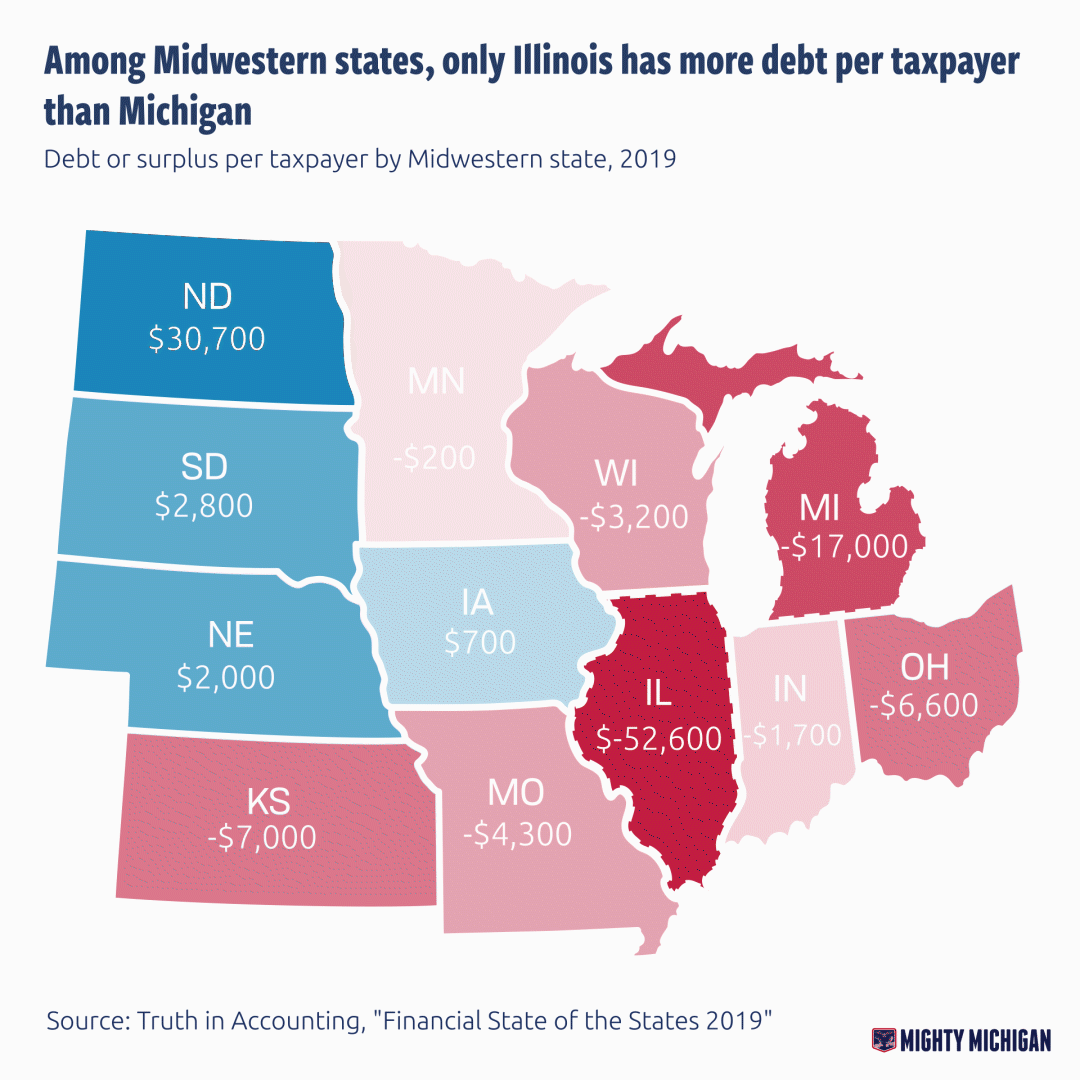 Commonsense reforms such as that proposed by Victory would make it more difficult for such unilateral action to be taken, easing the present and future debt burden for Michiganders.
— Sign the petition —
Support Debt Limits
To support commonsense debt limits, sign the petition. 
Learn More >