Michigan GDP growth since Great Recession is region's highest
Michigan was one of the states hit hardest by the recession, but pro-growth reforms have led to the state's gross domestic product enjoying an average annual growth of 2.3%.
Michigan's economy was one of those hardest hit by the Great Recession, but it is roaring back.
Home to two of the metro areas hardest hit by the economic downturn and already struggling before the housing bubble burst, Michigan found itself already in rough shape when the rest of the nation faced a slowdown. Now, however, its gross domestic product is growing faster than any other state in the region, thanks to pro-growth reforms.
In the past 10 years, Michigan has enjoyed an average annual growth of 2.3%. That beats its neighbors and puts it near the top nationally. Minnesota and Ohio are the only other nearby states to make it past 2%, with Indiana and Wisconsin close behind. Michigan's GDP is expanding nearly 65% faster than its neighbor to the southwest, Illinois.
So why is Michigan doing so well? How has a state that struggled before the Great Recession recovered?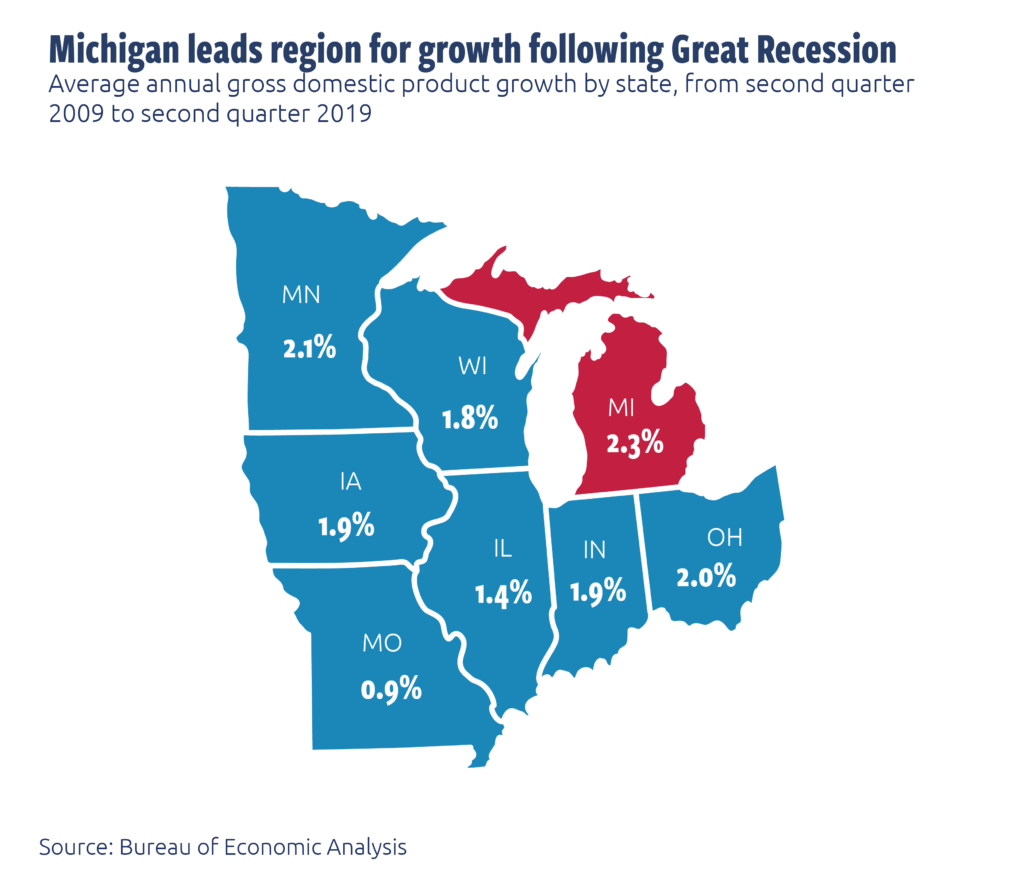 Much of that has to do with the state's pro-growth initiatives. Right to work, which ensures workers can't be fired for refusing to pay money to a union, has been a boon to Michiganders in the seven years since it was enacted. In that time, Michigan has added more than 430,000 new jobs, for a 10% gain.
Compare that with its neighbor, Ohio, which during that same seven years added half as many jobs despite a population 17% larger.
Michigan wages have increased by an average of nearly $6,000 a year. Workers who now have a choice about union participation can save another $500 to $1,000 per year in dues. Poverty levels in Michigan have also declined by nearly 3%.
The same can be said of repealing prevailing wage legislation, which required those working on public construction projects to be paid the same union scale wages regardless of where in the state they were working. Prevailing wage was repealed in mid-2018 after a voter petition drive gathered 382,700 signatures. The move is expected to save taxpayer dollars and create jobs.
Data from other states prove eliminating prevailing wage leads to more construction jobs overall. Former Michigan Senate Majority Leader Arlan Meekhof, R-West Olive, said at the time of the repeal that projects paying prevailing wage "cost 10-15% more than if it was built by the private sector." He said the state's priority should be to save taxpayers money.
Those savings can go into other projects or back to taxpayers. House Speaker Lee Chatfield, R-Levering, said the savings can go into school construction and much-needed road repairs. "These are our constituents, and while not all of us are part of a union, all of our families certainly are taxpayers," he said. "I choose to side with taxpayers."
With these two initiatives, Michigan has gotten serious about economic growth since the Great Recession. It's working, as the numbers prove.